Summary: Erdoğan/Putin rapprochement – Turkey slipping away from the West, but in Syria losing ground to Asad backed by Moscow.
We are again grateful for the article below to David Barchard, a writer on Turkish history and politics.
Three years ago in August 2016, Presidents Erdoğan and Putin were only just back on speaking terms after months of a Russian freeze-out over the shooting down of a Russian jet and murder of its pilot late in 2015. But on Tuesday this week they were joking about buying each other ice cream, attending an aviation fair together and talking about selling Turkey Su-57 fighter jets, after they had been photographed together on top of one at an aviation show.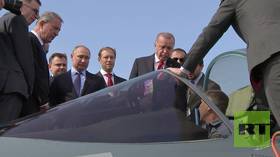 'Yes, you can buy it': Putin shows Erdogan Russian 5th gen Su-57 fighter jet (RT)
Meanwhile in Ankara, the second consignment of Russian S-400 anti-aircraft missiles had begun to arrive and are apparently being unpacked and installed—a deliberate gesture which probably implies that Turkey will for sure never get a consignment of F-35 jets it had ordered from the US, throwing into question its entire relationship with NATO and the West..
It's not surprising that the two men are joking about buying each other ice cream. They must be getting to know each other very well. They have spoken on the telephone seven times this year, most recently on 23 August, and met face to face five times. President Erdoğan, who is essentially the junior figure in their dealings, has been to Moscow four times this year.
After this latest trip, he told reporters that it had been well worth making the journey. If its yardstick was to increase political and strategic convergence between Turkey and Russia, and project an image of ever closer friendship, and so suggest that his country is steadily drifting out of the Western alliance and into a new orbit, that was indeed the case. Turkey can buy Russian fighter jets, have its tourism industry benefit from over 2.5 million Russian tourists this year, and it will even be able to celebrate the centenary of the Turkish Republic in 2023 with Turkey's first astronaut going into space, courtesy of a Russian rocket.
But this visit was not intended to be about this. Erdoğan's latest trip to Moscow was announced after a phone conversation on the 23rd between the two leaders about urgent Turkish concerns in the Syrian province of Idlib. Idlib is the only Syrian province still held by Sunni opposition forces, though under loose Turkish military surveillance. It also has an estimated 3.5 million civilians whom Turkey wants to safeguard from being forced to flee northwards and attempting to cross onto its territory, sparking a humanitarian and political disaster.
Russia and the Assad government by contrast are intent on eliminating Sunni militants. Assad's forces, supported by Russia, Syrian government forces are making steady advances into Idlib province into areas held by Sunni militants.    The crucial town of Khan Sheikhoun was recaptured on 20 August, an event regarded in Russia as a liberation, A day earlier a Turkish convoy moving towards the town was struck by Syrian air force jets, and two Turkish observation outposts, both of them large and heavily fortified were surrounded  by Syrian government troops. Russian military police are reportedly protecting about 200 stranded Turkish soldiers from a distance of 300 metres.
This is probably not the only difficulty the Turkish military have encountered there. Around the same time it became known that the two top Turkish military commanders in the province, including the commander of the Turkish Armed Forces (TSK) division for Syria's north-western province of Idlib, Major General Ahmet Ercan Corbacı, were among five generals applying for early retirement. This was clearly a protest gesture of some sort, but they did not reveal its grounds
The mess in Idlib contrasts embarrassingly with the image of Turkey both as the protector of the Sunni militants of Idlib and also as a powerful neighbouring force poised to launch an invasion of the Syrian Kurdish enclaves along the border between the two countries. This latter operation seemed sufficiently imminent this month for the Syrian Kurds to accept attempts by the United States military to prevent a Turkish invasion and the creation of a 30 km wide 'safe zone' by creating a much narrower safe zone under joint Turkish and American supervision along the border. Joint Turkey-US commands and some helicopter and drone patrols have got under way and more are expected to follow.
A continued American presence in Syria is of course anathema both to Russia and to Damascus. President Putin seems to concede that there may be a role for a safe zone but President Assad in Damascus firmly condemns it. President  Erdoğan is still adamant about not coming to terms with him.
So the obvious compromise – a Turkish-Syrian government deal in which Assad takes over the Kurdish-held regions, perhaps in a deal with its inhabitants, and thus insulates Turkey against the potential psychological, political, and strategic threats to its own Kurdish population—seems out of the question. The bitterness of six years of internecine war is part of the reason why a deal does not happen. Another  reason, probably, is that Turkey remembers the days when the PKK was sponsored by Syria and its now jailed leader, Abdullah Öcalan, lived in Syria and feel distrustful. A third possible factor could be that agreement with Assad would inevitably imply early withdrawal of Turkish forces from the territory they hold in Syria.
So what seems to have happened in Moscow is that Putin made essentially cosmetic gestures to cool tension and perhaps to banish prospects of a mass panic and flight among its civilian population. As he has done at previous meetings, Putin agreed yet again on the need to stamp out terrorism, though he and Ankara probably do not have exactly the same groups in mind.
But that is as far as Putin's support went. There is little doubt that the Syrian advance will carry on in Idlib and there is no chance of Syrian government forces pulling back.  Russia in any case regards Assad and his government as the long-term rightful rulers of Syria, while the Turkish-occupied areas of Afrin, Jarabolus, and el Bab will some day revert to Damascus. But as yet it is side-stepping that awkward issue. Under these circumstances, Vladimir Putin's management of his relations with Turkey is surely masterful, though perhaps explained by Turkish disillusion with the West and a desire to move away from it.
Turkish and Russian commentators have both pointed out that Erdoğan seems to have gained very little in Moscow. "Remarkably, each Putin-Erdogan summit has seen Ankara give concessions, be they economic, diplomatic or security- and defense-related, with Moscow always emerging as the winner," wrote Metin Gürcan, a former army officer who writes on strategic affairs.
For while the assurances over the situation in Idlib mean little or nothing in practice, they are helping reposition Turkey over defence industry and procurement issues, ranging from buying Russian fighter jets, to eventual co-production in defence industries.
These are fateful decisions for Turkey. Dr Çağlar Kurç, a strategic affairs specialist at Bilkent University sees the weapons purchases – or discussion of them – as the central issue. "There is still a high-level integrated defense-industrial relationship between Turkey and the West. If the Russian Federation were to start replacing it, we could talk seriously about a shift in Turkey's positioning between the two alliances. So any suggestion of procuring Russian air craft, and increased defence industry cooperation is very important –and so far the US is not behaving harshly because it wants to avoid this."
If so, the process is  likely to continue with another north Syria crisis and more Putin-Erdoğan dialogue before very long, with a very similar outcome involving yet a further modest Turkish shift towards Russia with defence industries and procurement at its centre. Erdoğan has little option but to go down that route because – possibly for reasons more to do with Turkish domestic politics than urgent strategic challenges – he maintains an uncompromising attitude towards the Kurdish militants in both Syria and Iraq, which implies high profile and well publicized military operations for which he needs a free hand. from outside powers rather than any return to a peace process.
Despite the reduced safe zone deal with the US, he  still seems ready to press ahead with an invasion of the Kurdish-held 'cantons' if  he feels it necessary.  He has also launched a major new military incursion into northern Iraq this month to help fight the PKK (Kurdistan Workers Party) militants there and prepare the way for an eventual attack on Mount Qandil, the remote mountain fastness on the Iraqi-Iranian border  in which PKK militants have their headquarters. And since neither Russia nor America wants to fall out with him, thus pushing Turkey into the camp of the opponents, the country's military presence and operations in both Syria and Iraq go largely unnoticed internationally. The sole major constraint is probably their cost.
For the time being the showdown with the US has not arrived, though there are many people in the US Congress who would like to force the issue.  But they are not in the White House's Oval office. Immediately after his trip to Moscow, President Erdoğan had a telephone conversation with US President Donald Trump and the two leaders agreed over humanitarian issues in Idlib and the need to boost trade. Erdoğan has a balance with both Russia and the USA, but it is Russia which is skillfully extracting the price it wants: the gradual detachment of Turkey from its allies.