Summary: the US Congress has passed a watered-down bill opposing BDS. Local action in the UK against an Israeli weapons company.
Since our posting of 25 June there have been two significant developments relating to BDS, the Boycott, Divestment and Sanctions movement against Israel.
The US Congress has considered no less than five bills relating to the Arab/Israel dispute, one supporting the two state solution, one setting out sanctions on supporters of Hamas or other similar groups, one confirming support for the pledge of $38 billion aid to Israel over 10 years, and one applauding Arab states for improving relations with Israel.
On 23 July Congress passed a bill (House Resolution 246) opposing BDS, following an unusual level of controversy. Supporters argued that BDS seeks to delegitimise Israel and is incompatible with support for a two state solution. Opponents argued that the bill denies Americans the right to protest. In the version eventually passed the bill recognises that boycotts have been effective in promoting justice in the USA, South Africa and elsewhere, and affirms the right of US citizens to free speech and to criticise US policy; it omits the claim in an earlier version that boycotts undermine the possibility of a negotiated solution.
A bill already approved by the Senate allowing BDS supporters to be punished went too far for the House of Representatives with its Democrat majority, and was not put to the vote. Ilhan Omar and Rashida Tlaib, two members of what is now called the "squad" (along with Alexandria Ocasio-Cortez and Ayanna Pressley) of what their supporters call progressive Democrats, had introduced a resolution affirming the right to boycott which may or may not come to the House for debate; that was on the same day that the House passed a resolution condemning President Trump for telling the squad to "go back" to their home countries. Another Democrat Congresswoman Betty McCollum wrote to the speaker explaining why she opposed 246, alleging that it ignored the Netanyahu government's brutality, dehumanisation, and subjugation of millions of Palestinians living under military occupation; "it is the actions of the Netanyahu government that delegitimizes [sic] Israel's standing in the world community."
In the UK, on 1 July protesters climbed onto the roof of the Ferranti Technologies factory in Oldham, Lancashire, which was bought by one of Israel's largest defence companies Elbit Systems in 2007; they reportedly remained there for three days. Banners read 'Israel is killing protesters every week' and 'UK: stop arming Israel' . Other activists blocked the front gates as police negotiators and firefighters arrived. Later an activist asked Oldham Council whether the factory had supplied weapons such as "field proven" sensors for drones, armoured headsets, and training simulators to Israel for use in Gaza. The Council leader said they didn't know, but would be willing to use their influence to encourage the company "to transition to the manufacture of green technologies". The management of the factory made no statement, and the were no arrests or charges against the activists.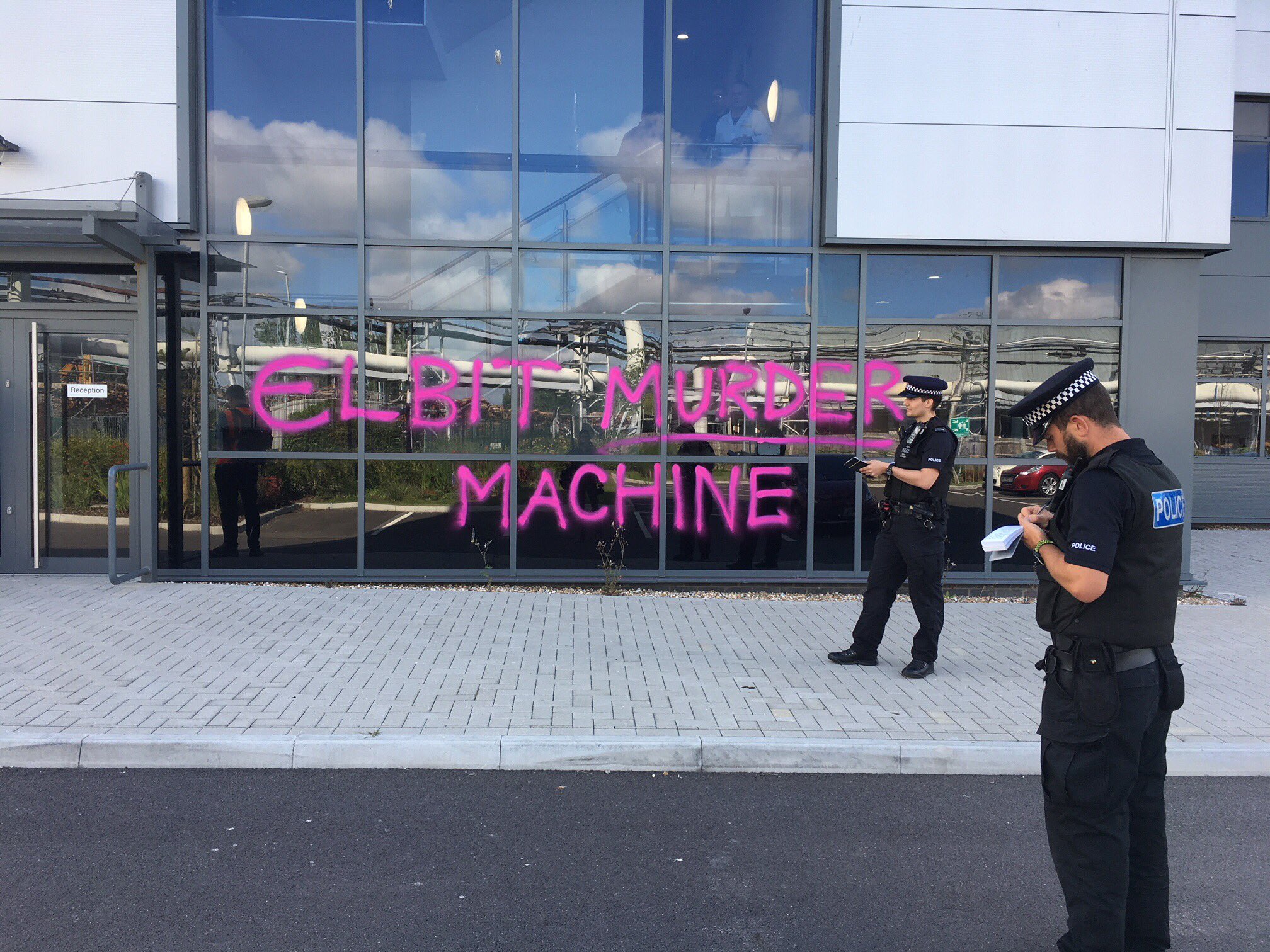 On the same day activists responding to a call from BDS occupied the Instro Precision factory in Sandwich, Kent, also owned by Elbit, and prevented production for a day. Again there were no arrests.
These were not the first protest actions at these locations, and they follow the pattern of similar protests in other parts of the UK – Hove (near Brighton), Shenstone (near Birmingham), Derry (Northern Ireland). We commented in our posting of 24 July 2015 that activists charged with criminal damage defended themselves by claiming they were acting to prevent more serious criminal activity, and were acquitted by juries. Since then management has declined to make statements or press charges, and we have seen no further reports of prosecutions or even arrests. This tactic by the management seems to have been successful in that these incidents have had little or no coverage in the national and international media, none at all in the two cases this month.
We do not know whether similar actions have been carried out in other countries. An anti-corporation lobby group SumOfUs has been calling on the French Axa Insurance to divest from Elbit Systems, and a petition was reportedly signed by more than 96,000 people in France and elsewhere by April last year. According to the Palestine News Agency Axa sold its shares in Elbit in December but remains linked to it through various investments, which SumOfUs argues in a new report means that is involved in the illegal Israeli occupation and in the production of banned weapons such as cluster bombs.